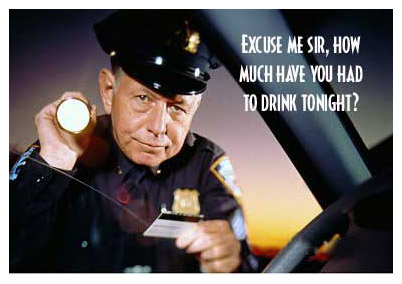 Let's see if we can translate the .15 blood alcohol level that a still-unseen toxicology report apparently showed that former Officer Robert Mosback had in his bloodstream following his June 26 on-duty accident into something more real than a number.
Here's how the
University of Oklahoma Police Department
describes it:
0.13 — 0.15 BAC:
Gross motor impairment and lack of physical control. Blurred vision and major loss of balance. Euphoria is reduced and dysphoria* is beginning to appear. Judgment and perception are severely impaired.
( * —Dysphoria: An emotional state of anxiety, depression, or unease.)
In the Know Zone
describes it this way:
6. BAC = .12-.15
= Vomiting usually occurs, unless this level is reached slowly or a person has developed a tolerance to alcohol. Drinkers are drowsy.
Drinkers display emotional instability, loss of critical judgment, impairment of perception, memory, and comprehension.
Lack of sensor-motor coordination and impaired balance are typical. Decreased sensory responses and increased reaction times develop. The vision is significantly impaired, including limited ability to see detail, peripheral vision, and slower glare recovery.
7. BAC = .15
= This blood-alcohol level means the equivalent of 1/2 pint of whiskey is circulating in the blood stream.
*****
Copyright 2010. All rights reserved. Contact Steve Collins at scollins@bristolpress.com