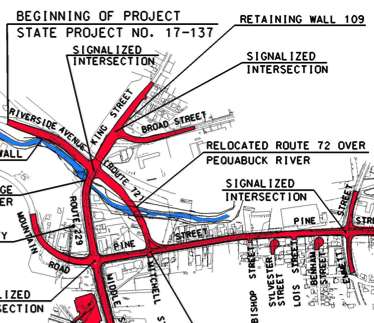 I wrote a handful of stories about the Route 72 extension for today's paper. Here they are:
Route 72: You've come a long way, baby
Traffic on Route 72 will face 'some challenges'
Bristol plans for development of new corridor
I don't see this little piece online so here's another:
Pegging the cost of the new Route 72 extension is inherently problematic because so much has been spent over the course of decades that's not figured into the bottom line from the state.
Manafort Brothers, the New Britain-based general contractor, won the right to build the road three years ago with a $39.7 million bid.
But the state has also spent millions acquiring rights of way, moving utilities, making plans, holding hearings and more.
During groundbreaking for the project, transportation officials guessed that the total tab probably amounted to $61 million over the course of decades. It may even be more, they admitted.
There isn't a solid figure because the money has come from different transportation accounts, some of which don't even exist any longer.
But state officials said the construction project is coming in pretty close to budget.
All told, it appears the new road cost a little less than $30 million a mile – or half the per mile cost of the proposed busway between Hartford and New Britain that's slated to get underway next year.
*******
Copyright 2010. All rights reserved. Contact Steve Collins at scollins@bristolpress.com